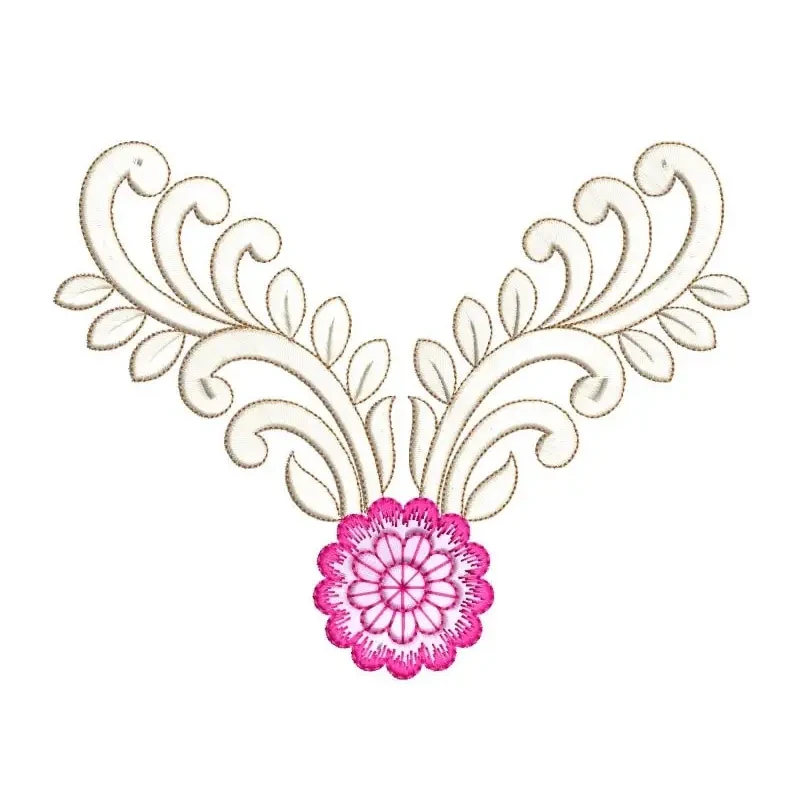  
Indian Floral Design For Neck
Introducing our exquisite "Indian Floral Design For Neck_EmbroideryShristi" – a true masterpiece that captures the essence of Indian craftsmanship and culture. This machine embroidery design is a harmonious fusion of tradition and innovation, meticulously crafted to elevate your creations to a whole new level.
With an impressive stitch count of 7983, every detail of this design is intricately woven to perfection. The symphony of colors and stitches, executed in a 4/4 ratio, brings forth a vivid and lifelike depiction of the Indian flora. Adorned with a palette of rich, vibrant hues, this design truly comes alive, offering a remarkable visual depth to your projects.
Measuring at a majestic height of 4.55 inches and a width of 5.97 inches, the Indian Floral Design is perfectly suited for necklines, adding an elegant touch to any garment or accessory. Whether it's a traditional attire or a contemporary ensemble, this embroidery design effortlessly blends with a variety of styles, enhancing the overall appeal.
Crafted with the utmost attention to detail, this design celebrates the timeless beauty of Indian floral motifs. From the delicate curves of the petals to the intricate play of light and shadow, every aspect has been carefully designed to reflect the rich heritage of Indian artistry.
Whether you're a professional designer or an avid DIY enthusiast, the "Indian Floral Design For Neck_EmbroideryShristi" is your gateway to infusing a touch of India's cultural heritage into your creations. Elevate your fashion projects, home decor, or accessories with this captivating embroidery design that promises to turn every piece into a work of art. Experience the magic of Indian craftsmanship with each stitch and let your imagination flourish like never before.
Data sheet
Width (In)

5.97

Width (Mm)

151.63

Height (In)

4.55

Height (Mm)

115.57

Color

4

Stitches

7983

Stops

4
4 other products in the same category: