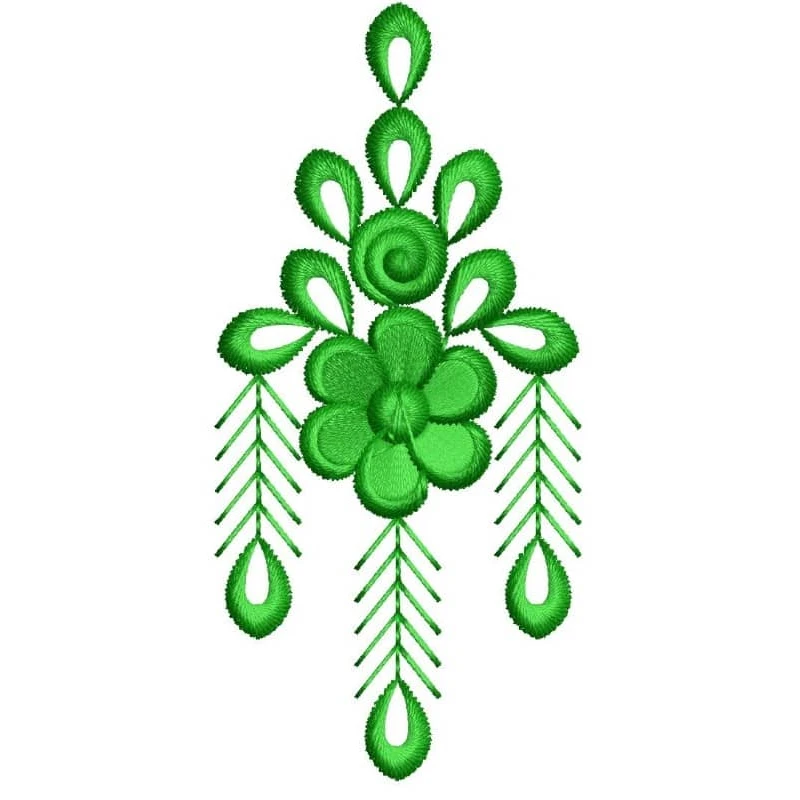  
Beautiful Indian Floral Machine Embroidery Design
Are you ready to elevate your creative projects with the timeless beauty of Indian florals? Look no further than our "Beautiful Indian Floral Machine Embroidery Design." This exquisite design is a testament to precision and artistry, featuring a total of 1722 meticulously crafted stitches. Every petal, every leaf is brought to life with unparalleled detail.
What makes this design even more appealing is its simplicity. With a seamless 1-color pattern, you can create stunning embroidery without the hassle of complex color changes or stops. It's perfect for both beginners and experienced embroiderers.
Size matters when it comes to embroidery, and this design doesn't disappoint. Measuring at 3.09 inches in height and 1.46 inches in width, it strikes the perfect balance between intricacy and versatility. Whether you're working on clothing, home decor, or crafts, this design will effortlessly enhance your creations.
The beauty of Indian floral motifs lies in their versatility. They can add an elegant touch to a wide range of projects, from traditional garments to modern accessories. It's a timeless design that never goes out of style.
Even if you're new to embroidery, you'll find this design incredibly user-friendly. Follow the simple instructions, and watch as your project comes to life with the charm of Indian florals.
Quality is our utmost priority at EmbroideryShristi. This design has been crafted with the utmost care and attention to detail to ensure your satisfaction. We believe that every stitch should be a work of art, and this design exemplifies that belief.
Don't miss the opportunity to enhance your embroidery repertoire with our "Beautiful Indian Floral Machine Embroidery Design." Whether you're a seasoned pro or just starting your embroidery journey, this design will add an elegant and timeless touch to your creations. Order now and experience the joy of creating with EmbroideryShristi!
Data sheet
Width (In)

1.46

Width (Mm)

37.08

Height (In)

3.09

Height (Mm)

78.486

Color

1

Stitches

1722

Stops

1
4 other products in the same category: